Web Stories vs Social Stories
What are Web Stories?
Google Web Stories is the newest platform to add a story element to content creation, joining a growing number of others. Google Web Stories are different from social network stories. In that they give brands and organizations a one-of-a-kind opportunity to create immersive content. And that can be found via Google search. Here's a deeper look at Google Web Stories and how they might help you improve your online presence.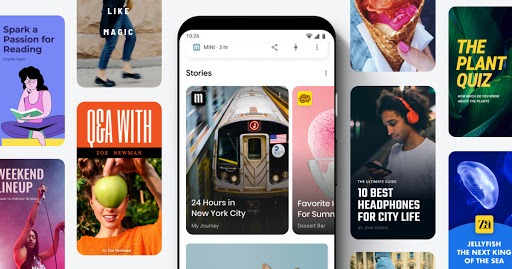 Web Stories by Google is a web-based version of the popular story format that works especially well on mobile devices. The stories may be found via Google Search and the Google App, which is available for iOS and Android. You may also include Web Stories into your own website. 
The main difference between ordinary social network stories and Google Web Stories is that: your stories and the material they include are owned and hosted by you (the author). They're not hosted by the social media site on which they are shared. According to Google they're "distinct publishing format on the web and are more open than the wall of their social counterparts." 
Ads may be used to monetize Web Stories, just as regular stories. The stories, on the other hand, make you money because they are yours and are hosted on your server. Not the social media giants. In other words, with Web Stories, publishers may choose whether or not to play advertising content in between their stories. That allows them to monetize their story material – for the first time ever – something that is not feasible on Instagram (because there you can only host ads yourself, but not generate revenue from it).
Benefits of Web Stories: 
Because Google Web Stories is open-source, it has a lot of advantages that social media stories don't have. They provide you the freedom and flexibility to be creative. Because they're a visual medium, you can get incredibly creative and consider what your audience wants to see. In addition to interactive elements; advertisements are a certain way to reach a target demographic. Advertisements may have an instant influence on a company by developing an interesting ad and investing enough to reach a large number of users. Among many other indicators, this influence might be evident in increased commerce or increased brand recognition.
Google Web Stories also provide a unique approach to reach out to new consumers via digital marketing. The material may be shared and incorporated across many websites and apps since it is part of the open web. When used creatively, Web Stories provide a limitless chance to connect out to more people than ever before.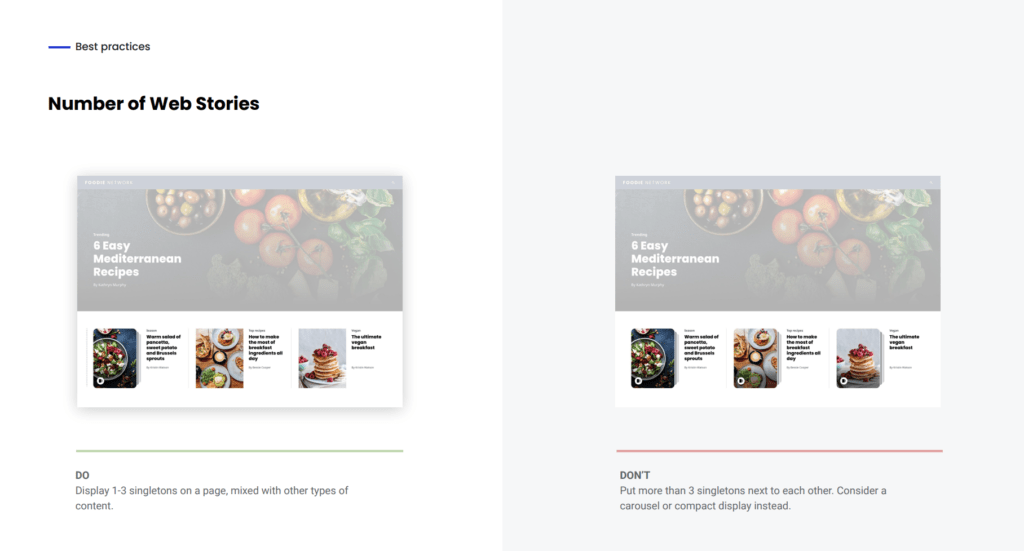 Due to the formats compatibility with website analytics, you can easily track and measure the success of your Google Web Stories with rich insights. 
Tips to create impactful Web Stories: 
Google Web Stories, like social network stories, are a visual experience. Therefore it's critical that content is delivered in a way that is aesthetically engaging to the user. 
Plan your Web Story: what's the message you want to send to your customers? How will you build this throughout the course of the slides? Is there a distinct beginning, middle, and end to it? During the encounter, what do you want the user to think and feel?
Make text simple and clear: because Web Stories are so visual, it's critical that any text is easy to read and that contrast between busy and backgrounds is sufficient.
Use intriguing videos and pictures and make sure it's proportioned right at a 9:16 ratio and in portrait mode (for smartphones).
Vary the size of your text to make it easier to read and avoid using massive blocks of text (ideally not more than 150 characters per story slide)
Add links and CTAs: when it comes to adding links back to your website, CTAs, and adverts, Google Web Stories has a lot of customization choices. Make the most of them!
Add captions: many content experts urge you to caption your videos so that others who are watching without sound may still understand them.
Run your story via the Google Web Story tool to make sure it's ready to be shared.
Use one of the editor tools to seamlessly create Web Stories, like Zazu.
Put these tips into practice by creating your first Zazu Story, book your demo call now! 
What are Web Stories? Google Web Stories is the newest platform to add a story element to content creation, joining a growing number of others. Google Web Stories are different from social network stories. In that they give brands and organizations a one-of-a-kind opportunity to create immersive content. And that can be found via Google …
What are Web Stories? Google Web Stories is the newest platform to add a story element to content creation, joining a growing number of others. Google Web Stories are different from social network stories. In that they give brands and organizations a one-of-a-kind opportunity to create immersive content. And that can be found via Google …